NYFW Fall 2018 Shows
NYFW Fall 2018 Shows
It was fun for a week to take a break from the hustle of styling, to attend New York Fashion Week, to dress up, and to catch up with those people in the industry whom I don't regularly see. Dressing up is so much fun. However, sometimes I feel what is more important than seeing the shows is answering my own question: What should I wear? And, of course, making sure to take 50 photo shots to get 1 great picture to post on Social Media. That beautiful picture captures the look of fashion week for that day. After each day of preparing my look and, despite traveling throughout the town to get to each show, the shows were energizing and exciting as I observed the new trends.
I am going to highlight a few shows in the spirit of Jejune Magazine by pointing out their social relevant theme (eco-friendly, body positive, and somewhat political). And, then I will recap upcoming trends.
Alison Hernon, Fashion Director, Jejune Magazine
The week started off with one of my favorite events: Manhattan Vintage Show.
Instagram: @thevintageshow
YES! I am having so much fun, but I am so exhausted. This is so much work!
Instagram: @lifeoffashionstylist
Christian Siriano
Christian Siriano's show was filled with body positivity. He opened the show with plus model, Ashley Graham and the whole show was combined with plus and regular model sized dresses throughout the show. This event marked the 10th anniversary of Christian showcasing his collections. At the Grand Lodge in the afternoon, actress, Meg Ryan, rapper Cardi B, and trans activist Laverne Cox all sat in the front row. Christians collection was ladylike silhouettes with red carpet and old Hollywood glamour intertwined. He used shimmery and sheer fabrics, as well as velvet. He added an element of sex appeal with stiletto over the knee boots and high slits in the dresses or skirts. Christian spoke after the show: "I'm proud to celebrate people from all walks of life on the runway and bring the world of glamour back."
CLOT: All different ethnicities and cultures join together on the runway.
CLOT: Bridging the gap with age on the runway.
CLOT
Edison Chen and his partner Kevin Poon, presented a collection that bridged the East meets West sensibility of street culture. It also, showcased models from all various styles: with age, height and ethnicities. It's the NEW WAVE of today's models.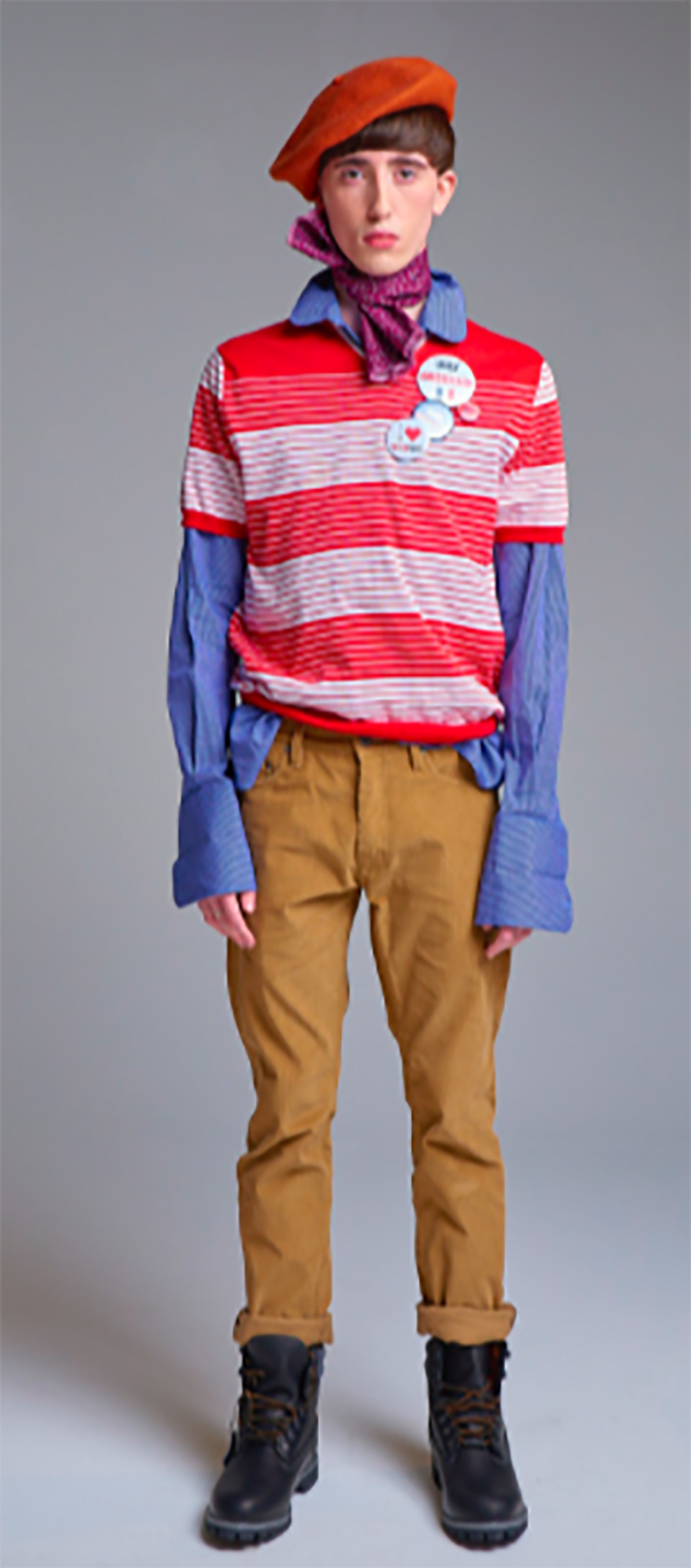 David Hart Collection shot by David Carlo.
David Hart Collection shot by David Carlo.
David Hart Collection shot by David Carlo.
David Hart Collection shot by David Carlo.
David Hart
David Hart's Men's collection stepped away from traditional suits in bold colors but was instead layered polos, lots of turtleneck layering, tweed trousers. A French themed show with berets, ascots, red and white polos, eiffel tower sweaters, which was to symbolize some designers left NYC to show in Paris this season. And, his "Ugly American" button to defer that Americans don't try to speak French in Paris. More as if poking fun of it.
Bristol Fall 2018 RTW Collection
Bristol Fall 2018 RTW Collection consectetur adipiscing elit.
Descendant of Thieves Fall 2018 RTW
Descendant of Thieves Fall 2018 RTW
Bristol & Descendant of Thieves
These two shows had a green and eco-friendly element to their show. A trend highlighted everywhere this season is cardigans tied over the shoulder, Roman style.
Descendant of Thieves compiled an assortment of embroidered plaid pieces, bomber and utility jackets.
Bristol had a Japanese style to it with some Adidas accents.
Life In Perfect Disorder
Men's and Women's collection showed all diversity is joined together with Asian, Afro-American, Pink Hair, White models. From a fashion perspective, this is Workwear meets Streetwear in a palette of black, white and pink.
TRENDS
Trends for Menswear: Berets, Plaid, Vinyl, Dr. Martens, Turtleneck Layering, Color: Brown & Red, Business Style with Pinstripe, Padded Jackets, 70's Influence and Tracksuits.
Trends for Women's: Miniskirts, Cargo Pants, Women's Pant Suits, Leather Trench Coats, Smocks, Ruched Dresses, Accenting the Waistline, and Animal House.